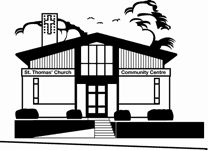 St Thomas' Community Project serves Garretts Green by working with local people, in partnership with other organisations, using available resources to contribute to the well-being and vitality of the whole community.  The majority of our activities are all totally run by local volunteer co-ordinators and have developed to address local needs. Participants who attend these activities remain active and interact with other participants. There are opportunities to make new friends, try new activities and have a good time.
We have a variety of other activities for young people each week. Information on this can be found from following the link to St Thomas' website above.
Tuesday
Brothers Union
9:30 am - 11:30 am
Down stairs in the community centre
This activity offers local men a time to get together, chat together and support each other. There are opportunities to play pool and darts drink tea and eat plenty of biscuits. For more information please contact us.
Wednesday
Place of Welcome
9:30 am - 12:00 pm
St Thomas Church Hall
Anyone is welcome to drop in for a chat and a cuppa. Feel free to drop in any time on a Wednesday morning there will always be a warm welcome. We regularly have people and organisations attending to share what other opportunities there are available for local people. Place of welcome crosses over with a number of other activities that happen at St Thomas' on a Wednesday. So if you wanted to you could receive support form the Job Club, have a Knit and Natter, join the Art Group or even stop on and join the lunch club for some food. Place of welcome is free but there may be costs associated with some of the other activities.
Wednesday
Knit and Natter
9:30 am - 12:00 pm
In the Church Hall
Anyone is welcome to have a go at Knitting and have a natter at the same time. If your new to knitting do come along and we will do our best to help you learn. If you have experience of knitting your equally welcome and your help would be much appreciated to help others learn.
There are no events listed